Devolution happens when powers, funding and decisions which would usually be held, and determined, by central government, are transferred to local authorities such as Cornwall Council. Now is the time to have your say on Cornwall's proposed 2022 devolution deal.
Cornwall Council was the first rural unitary authority to negotiate a devolution deal with Government in 2015. In this deal, Cornwall was able to deliver better transport links, retain and reinvest business rates and press ahead with innovative projects like geothermal exploration. It delivered real and lasting benefits for Cornwall's residents, and now, through the 2022 Levelling Up White Paper, Cornwall has been invited to propose a second devolution deal.
What could Devolution mean in real terms for Cornwall? Find out in this short video below.
The public consultation process on this new deal is now open, and runs until midnight on 17th Februrary 2023. Please see the bottom of the page for the public consultation document – the survey questions are on the last few pages and are double sided, so scroll left and right within the viewer to see all questions. You can also access the survey online here.
Big Deal Poster

Find out on why this is a big deal for Cornwall in the council's video below.
Alongside this video, for more information, deadlines and timeframes regarding the proposed new devolution deal, visit the Devolution page on Cornwall Council's website. There is also an FAQ section on their site which looks to answer many of the questions the Council has been asked on the proposed deal.
A survey has been created online, and this can be found on the 'Let's Talk' page here: https://letstalk.cornwall.gov.uk/bigdeal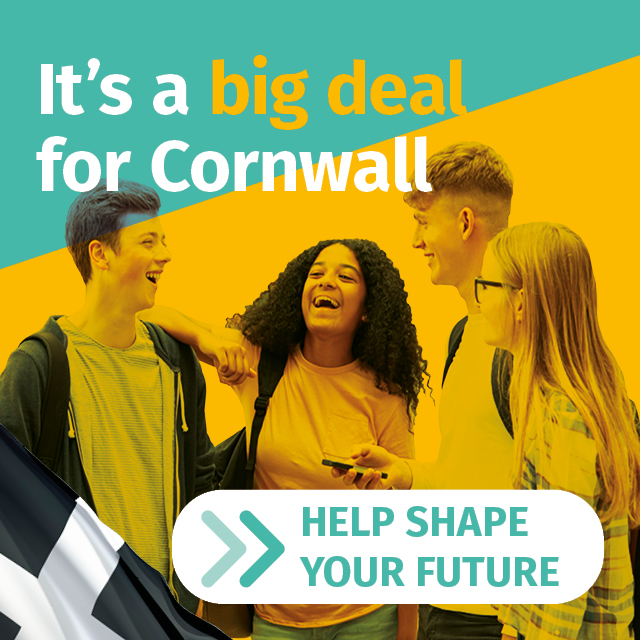 Public Consultation on the proposed Cornwall Devolution Deal Questionnaire