A huge new step towards Scillonian IV and a major harbour improvement plan has been secured by Cornwall and Isles of Scilly Council. Funding has been secured as the Government announced the first areas in the country to benefit from its Levelling Up Strategy in the autumn budget.
The Isles of Scilly Transport Board developed plans to replace the existing passenger, cargo and inter-island vessels and improve the two busiest harbours on the islands at St Mary's and Tresco. The project will also benefit from £5.4m of local funding to be provided by the Isles of Scilly Steamship Group, Duchy of Cornwall and Tresco Estate.
Work has already started in order to ensure the harbour improvements can be completed and vessels enter service on or by 31 March 2024.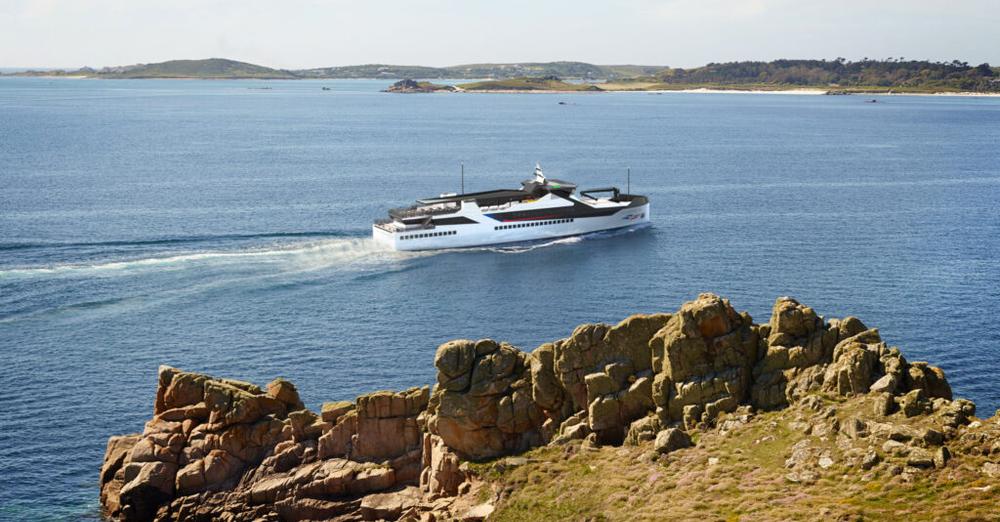 Once completed, the project will deliver a range of benefits for the community which include a residents' travel scheme ensuring affordable travel, priority access to crossings on the cargo vessel all year round and improved onward connectivity. The new vessels will also ensure access for passengers with reduced mobility to a minimum standard set by the Council, and other logistical improvement works will be completed, such as building the provision of amainland delivery point for internet orders and onward shipping to the islands. There is also a commitment to provide Apprenticeship programmes for local residents
Robert Francis, Chairman of the Council of the Isles of Scilly, said:
"The Council has made it a priority to ensure that the existing ageing ships and infrastructure are replaced, and we have been fortunate at the timing of the Levelling Up Fund opportunity. It is no exaggeration to say that the ships that link the Isles of Scilly to the mainland are a lifeline for this community and today marks an important day in Scilly's recent history. We are extremely grateful to the government for recognising the need for investment through their support during the pandemic and now again through this substantial funding of £48m. Plans for the replacement vessels developed by our partners at the Isles of Scilly Steamship Group are very exciting and show that we can expect a huge upgrade on the existing sea links. I'd like to thank everyone who has worked so hard to ensure that this bid has been successful, with special thanks to our MP Derek Thomas. I look forward to seeing this project move forward at pace."
Stuart Reid, Chief Executive of the Isles of Scilly Steamship Group, which runs lifeline passenger and freight services to the islands by sea and air, said:
"This is a fantastic day for the Isles of Scilly with a major Government investment that will futureproof the sea link by funding new ships and harbour upgrades. We are well advanced with our vessel replacement plans and have held extensive discussions with a number of shipyards. We look forward to introducing the Scillonian IV passenger ship, cargo vessel and inter-island launch in 2024, which will be purpose-built to meet the future service needs of the Isles of Scilly community, local businesses and visitors for many years to come."
An extended press release, and more information about the project can be found on the Isles of Scilly Steamship Company website: https://www.islesofscilly-travel.co.uk/2021/10/council-of-the-isles-of-scilly-secures-48m-for-major-improvements-to-the-isles-of-scillys-sea-links/
Be sure to also check their blog for inspiring stories about the islands and its transport: https://www.islesofscilly-travel.co.uk/blog-archive/