Leaders from seven of the world's biggest economies are set to meet for the G7 summit in Carbis Bay from June 11-13 to discuss global challenges including climate change and the ongoing Covid-19 pandemic.
But away from the spotlight, organisations across Cornwall are arranging their own alternative G7 events to focus on the issues that are important to them. These include volunteer and community groups, green energy providers and charities.
All of these different events have now been brought together under the banner of An Event for Everyone which features a calendar of everything taking place around the G7 weekend, from alternative summits to wildlife walks.
So read on to discover what's going on near you!
If you're organising an event of your own and would like to see it included, you can get in touch by emailing G7cornwall@cornwall.gov.uk.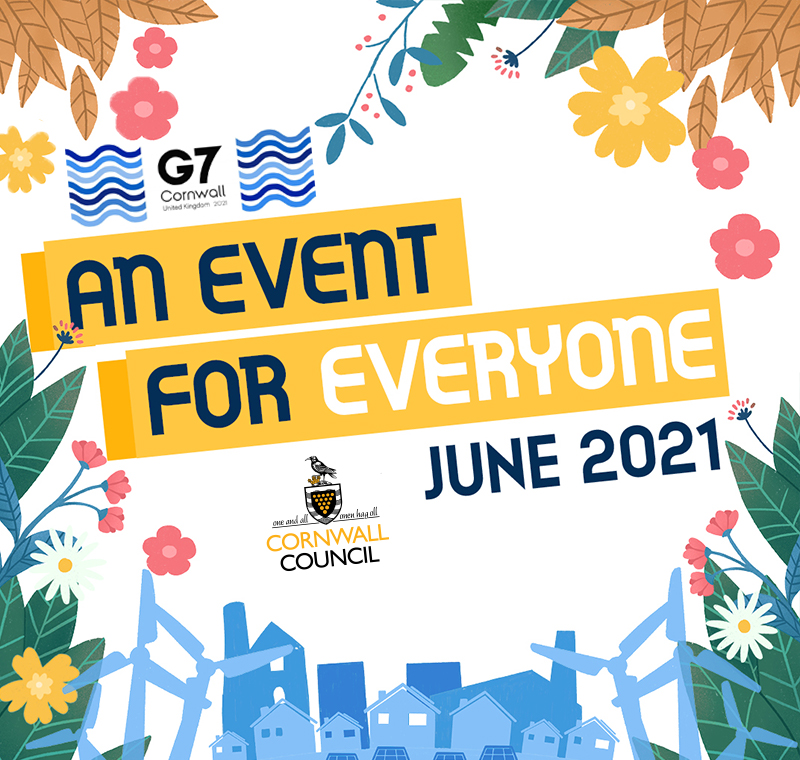 7 June 2021
Cornwall Schools' Eco Conference 2021
This year's Cornwall Schools' Eco-Conference will tie in with G7 as a virtual event attended by the Student Eco Council of every Cornish secondary school and students from international partner schools.
Students will look at the G7 focus areas through interactive workshops and videos from not-for-profit organisations, values-driven Cornish businesses, young entrepreneurs and young environmental activists.
Places should be booked by a school's lead teacher, who will also be available to attend the virtual conference. If students are required to maintain year group bubbles then a staff place should be booked per bubble.
Book here: https://www.eventbrite.co.uk/e/cornwall-schools-eco-conference-2021-tickets-151627041563

8 June 2021
Sustainable Growth Conference – with HRH Prince Charles, the Duke of Cornwall and the Government's Chief Scientific Adviser Sir Patrick Vallance
An impressive double act of the Government's Chief Scientific Adviser, Sir Patrick Vallance, and HRH Prince Charles, the Duke of Cornwall, is set to headline the Cornwall Chamber of Commerce Sustainable Growth Conference on Tuesday 8th June.
The 'hybrid' event hosted at Exeter University's Environment & Sustainability Institute on the Penryn Campus also falls on World Ocean Day. It will focus on G7 themes and offer advice on how businesses, enterprises and individuals can improve their sustainability, counter climate change and work towards "net zero" carbon emission targets.
The conference will show how Cornwall is leading the way in understanding and delivering sustainability, driving changes in agri-tech, education, health, energy, and reducing inequality, with the aim of delivering a fairer, more sustainable future.
As well as Prince Charles and Sir Patrick – and a joint welcome by Cornwall Chamber CEO Kim Conchie and Eden Project Co-Founder Sir Tim Smit – speakers at the event include Exeter University's Professor Fiona Charnley, Surfers Against Sewage CEO Hugo Tagholm, DEFRA Secretary of State George Eustice MP, Cornwall Council CEO Kate Kennally and Geothermal Energy pioneer Dr Ryan Law.
For more information, and to join attendees from across the world registered for the event, please visit https://www.cornwallchamber.co.uk/sustainable-growth-conference

9 June 2021
Beyond the Postcard
Venues across Cornwall are set to host the first screening of Beyond the Postcard, a collaboration between Creative Kernow, Screen Cornwall, Hall for Cornwall and Wildworks, on Wednesday, June 9.
A hundred freelancers have been involved in creating and producing the film, which was commissioned for G7 to showcase all the creative and cultural industries in Cornwall.
A programme of short films from emerging talent will accompany the premiere, including AN TAROW (The Bull), a Cornish Language commission through FylmK, ANORAKS which was produced through the BBC New Creatives scheme, and POSTBOX from Falmouth University's School of Film and Television graduate shorts programme.
Find out where Beyond the Postcard is being screened at https://cornwall365.com/events/types/g7-events/
eHealth Innovation Summit
The first ever eHealth Innovation Summit will take place on Wednesday June 9 and is free to attend. The online event will demonstrate how Cornish eHealth businesses and new technologies are supporting care, health-related fields and wellbeing through innovation.
To register your interest, visit https://www.eventbrite.co.uk/e/the-ehealth-innovation-summit-tickets-153619027647?aff=ebdssbeac

11 June 2021
Global Offshore Wind (FLOW) Conference 2021
Global Floating Offshore Wind (FLOW) is set to play an important role in the global fight against climate change. But experts agree that industrialisation and scale-up need to be accelerated if global net-zero targets are to be met.
Cornwall is playing a leading role in driving this acceleration as it sits at the heart of the European Offshore Renewable Energy resource areas and also represents the UK's world leading offshore wind market.
The Conference will include a series of discussions and presentations focusing on:
How Floating Offshore Wind (FLOW) meets the required scale to significantly change global energy production and the opportunity this creates
How the Celtic Sea region can be developed to accelerate the industrialisation of FLOW to meet this global opportunity
The impact and opportunities of early thinking around low carbon footprint and local content strategies,
How a joined-up regional response to this global opportunity can maximise investment and deliver return
The event will take place both virtually and in person to a small socially-distanced audience. It is being delivered by Celtic Sea Power, a trading name of WaveHub Development Services Ltd.
For more information visit: https://www.g7flowconference.co.uk/
Co-creating Cornwall's Future – Voluntary Sector Forum
Co-creating Cornwall's Future is an online summit organised by Cornwall's Voluntary Sector Forum and aimed at "volunteers, staff and those proud of the VCSE community locally, nationally and internationally".
It is hoped the event will create further opportunities for co-creation in three key work areas: economy, environment, and health.
Cornwall VSF said: "Holding the event online offers anyone in the sector the chance to actively engage in an inclusive way, so that we hear as many voices as possible on the day."
The summit will include workshops with live interviews, keynote speeches with problem-solving panels, and stories of grassroots organisations who have evoked best practice. The intention is that all will "combine to empower, inspire and connect our communities."
The day will end with a pledge to work collaboratively for a future that will see all parts of Cornwall thrive and prosper. For more information, and to sign up to the event visit https://www.eventbrite.co.uk/e/co-creating-cornwalls-future-tickets-144616430637

12 June 2021
See you at the Sea for G7
Cornwall's inspirational land and sea-based conservation work will be celebrated with activities organised by Cornwall Wildlife Trust.
Learn how even the smallest actions you can make a difference in the ongoing fight against Climate Change and the Ecological Crisis.
Activities will take place on Boscawen Fields, Swanpool, Gyllyngvase beach, Castle beaches and Pendennis Point, and will be linked with an Adventure Lab virtual nature trail on the coastal path. Activities include rock-pooling, beach cleans and much more.
For more information visit: https://www.cornwallwildlifetrust.org.uk/events
Cornwall House, Fox Building, Falmouth University Wood Lane Campus: June 9-14
Running from 9-14 June, Cornwall House aims to showcase the best Cornwall has to offer with its rich heritage and innovative green energy, mining, agritech, food and drink, space and aerospace.
The exposition is organised by the Cornwall Development Company, a wholly owned Cornwall Council company, and developed as a partnership between Cornwall Council, Falmouth University, Cornwall Trade and Investment, Cornwall and the Isles of Scilly Local Enterprise Partnership, Cornwall Chamber of Commerce and Business Partnerships and Exhibitors.
Cornwall House will offer digital and physical 'walk-throughs' and showcase Cornish creativity, investment ideas and top exports.
A walk-through exhibit will have four sector themes:
Georesources (mining and geothermal energy)

CL,BL,CM,CR,TW,GEL and Eden geothermal
Animated with lithium samples, Cu/Sn bearing core, GEL drill bit

FLOW
Space/Data

Spaceport Cornwall and GES
Animated with Dreamchaser model (TBC)

Cornwall Trade and Investment/Enterprise Zones
 There will also be a Manufacturing & Export Zone delivered by:
Cornwall Chamber of Commerce
Cornwall Manufacturing Group
Cultivator
Department of International Trade
It will feature leading exporters from manufacturing and creative sectors such as PALL, Watson Marlow, Teagle and DP Engineers.
There will also be an area showcasing major innovative products and services, featuring:
CCoC
Aerospace Cornwall
Launchpad
TEVI
Agritech Cornwall
EPIC (e-health)
Innovate UK
Falmouth University (wAVE project)
The expo will also include common areas animated by Cornwall Wildlife Trust, Eden project and Falmouth University students.
At the heart of Cornwall House will be the Kernow Education Arts Partnership, which will be staffed by young professional writers and performers (aged under 30) as well as student journalists educated at Cornish schools or at home.
Their mission will be to collect stories and views focusing on the key issues of G7, the experience of the summit itself and Cornwall's place at the heart of it.  The overall aim will be to provide a platform to showcase:
Photography and visual arts highlighting the natural world from Falmouth University students
The Cornwall Wildlife Trust
Falmouth University 'digital gaming studio'
As part of the expo, Schools Day will take place on June 8th to raise awareness of developments, career opportunities and STEM engagement.  Pupils in years 9 and 10 from schools in the Falmouth area will receive a special invitation and will be given a guided tour of all exhibits.
There will also be screenings of Cornish and Ocean Sustainability themed content in the lecture theatre which has a Covid-compliant seating capacity of 75.  Films will include:
9th June – Bait
11th June – Plastic Ocean
12th June – Screen Cornwall